or Send Your Check:
Please write your check to the
International Collaborative Leadership Institute.
Help Build a Better World
Your Investment will underwrite two books:
Leaders' Guide and Practitioner's Workbook
for
Collaborative Excellence
By Robert Porter Lynch

Invest in Our
Collaborative Excellence
Book Writing Initiative

I'm asking for your help in underwriting the costs of writing & producing two new books that
I will write during this summer and release for publication in the fall of 2017.
It's one of the most important investments you can make -- one that will make a difference!
Two Books to be Written this Summer
The two books are related and very timely:
Collaborative Excellence for Leaders


– Creating High Trust and Teamwork in your organization – 250 pages

Collaborative Excellence Workbook
– How to become Certified in Collaborative Business Management (under the new International Standard) – 250 pages illustrated with check lists and implementation advice
The books address the key principles of collaborative leadership, new breakthroughs in the neuro-science of trust, advanced thinking about how collaboration increases productivity, skill development and a step-by-step tutorial on how trust and confidence-building can be built and sustained in the workplace, in the home, and in our interpersonal relationships.
Timing is important since we want to get these eagerly awaited texts in the hands of leaders, scholars and teachers as well as to a much wider reading public.
Below you can read more of the background into the details of how these books build the essence of leadership into a practical and usable discipline that can be taught and understood by the community at large.
Request for Financial Support
The initial financial support that I am seeking is $30,000 to move these books into the hands of the printer for release across the world.
Donors in the amount of $1,000 or more will be
acknowledged in the opening pages of both books
as sponsors in the order of the magnitude of their donations.
A New Global Standard for Collaborative Relationship Management
In March the International Standards Organization (ISO – Geneva) formalized Standard 44001: Collaborative Relationship Management to enable world-class cooperation – both within and between organizations.
It's more than just a standard: it's a framework for deploying best practices for building collaborative excellence – better leadership, alignment, coordination, teamwork, and trust.
A New Era of Collaborative Commerce?
The ISO Standards of Collaborative Excellence represent the first time in the history of commerce that companies can verify the quality of their suppliers, customers, and alliance partners anywhere in the world.
Ultimately, this may be the beginning of a sea-change in the way organizations -- from business to government-- are led and managed.
Proven Standards & Practices
The formalization of collaborative business practices began in the mid-1980s when Robert Porter Lynch, founder of the Collaborative Leadership Institute, began searching for and categorizing best practices. This effort resulted in the several ground-breaking books documenting the strategic architecture and best practices of collaboration, trigge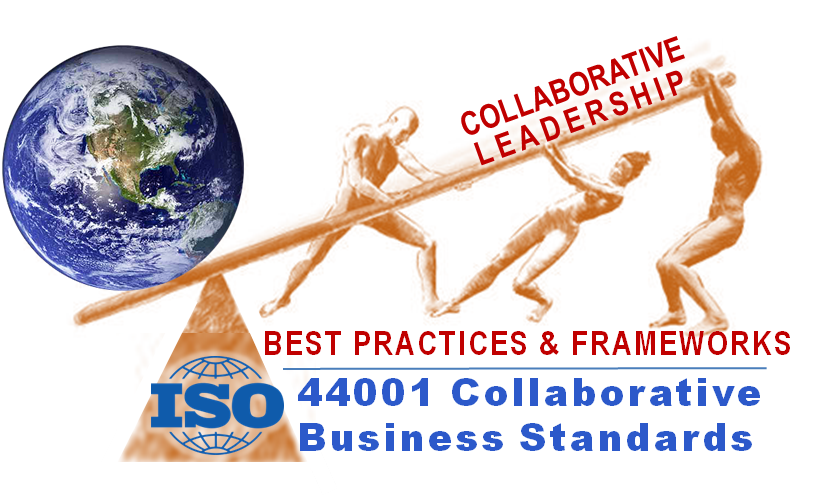 ring a global initiative.
Global Proliferation
As these practices proliferated around the world, collaborative professionals realized significant increases in operational performance, competitive advantage, effective use of resources, lower employee turnover, and on-time-on-budget achievement. Often 25% (or greater) improvements were attained.
Why is it so important?
Until the issuance of ISO 44001 there has been no language, no framework, no shared best practices, no metrics, nor tested methods for common initiatives.
Help Us Be the Market Leader
The preponderance of the ISO standards are based on work initiated by Mr. Lynch, who has been a key thought leader and driving force.
Currently there are no books for leaders nor any practitioner's guides to assist in the 44001 implementation.
We expect over 100,000 organizations will apply for certification in the next decade.
We Need Your Donation to be First to Market
Writing and producing the two companion books -- Leader's Guide & Practitioner's Workbook -- will take approximately six months of full-time, unobstructed effort to be ready for publication by the end of the year.
Robert has already written four books and had over 30,000 copies published/sold, and has written extensively on the subject of leadership, collaboration, innovation, and trust building. See Robert's writings on the Publications Page
He understands the demands, specifications, and requirements to write, edit, and bring books to market.
The basic research for the book is complete, writing is ready to begin.
Copyright International Collaborative Leadership Institute, Inc. 2017-- All Rights Reserved
We are a 501c3 certified Not-For-Profit Educational Institution